Please join Fleetofcads on Facebook by clicking the "Like" button!

1991 Cadillac Brougham Limousine

Conversion by DaBryan Coachworks
Owned by:
Ron Durst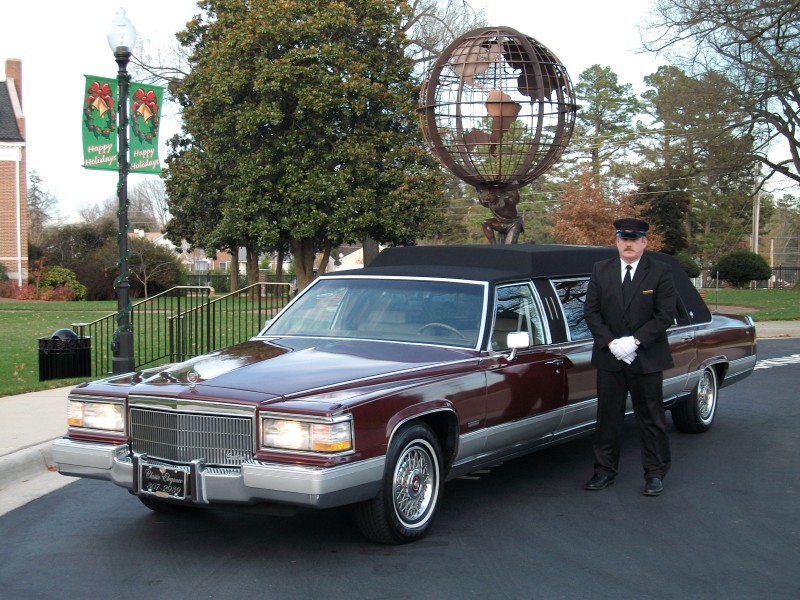 Being a collector that appreciates that "one of a kind" Cadillac, I was thrilled to showcase Ron's 1991 Cadillac Brougham high-top 85" double cut conversion by DaBryan Coachworks. There is no other Limousine on the globe quite like this one.
Promotional Video for this Limousine
.
.
.
Built by DaByran Motorcoach, Custom built for and once owned by John Pillsbury of the Pillsbury Cookie and Dough Co.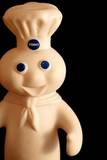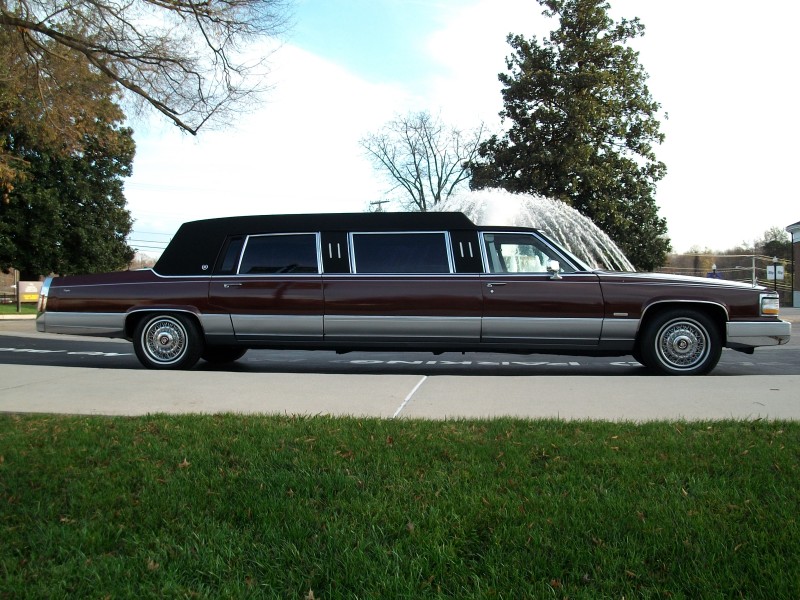 85 inch stretch, double cut, raised roof, wedding doors on both sides. The raised roof in and of itself was very rare back in 1991. This is a very labor intensive option since the original roof line is discarded and a new raised roof is installed with all new structuring and integrity. This is covered with a beautiful black stay-fast cloth top. VERY dressy! Unbelievable head space is gained in the rear compartment. The double cut is also a difficult and very expensive option in the conversion. Not only has length been added to the midsection of the limousine, but the coach builder has also lengthened the car just behind the rear doors. Notice the distance between the rear door and the rear fender well. This option allows the back seat to sit farther back on the frame allowing easy in and out access and also giving the rear passengers added privacy by sitting behind the C-pillar. You don't have to climb around the back seat when getting into THIS limo.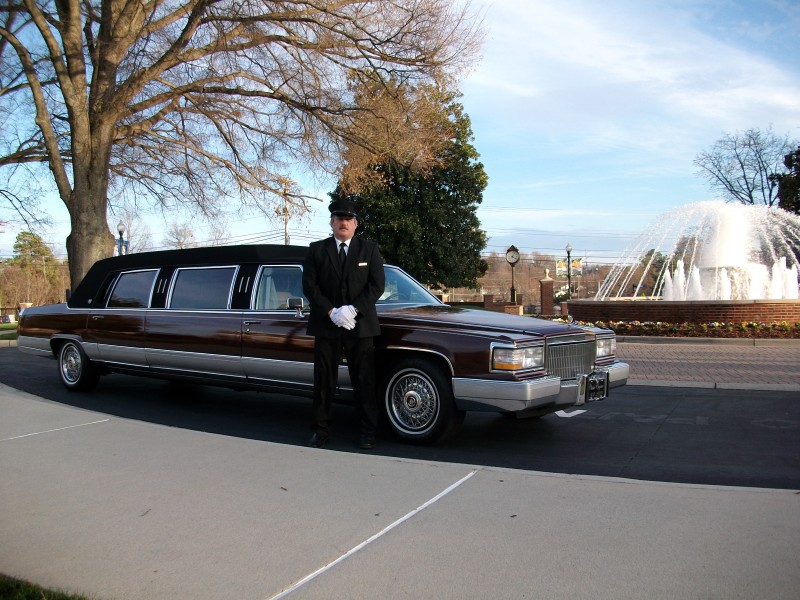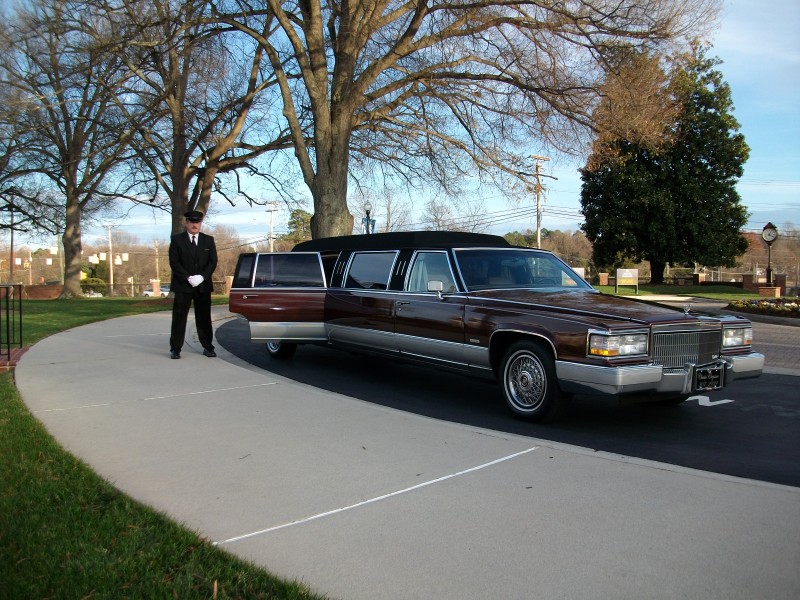 Wow! Look at the curb presence of this beautiful limousine!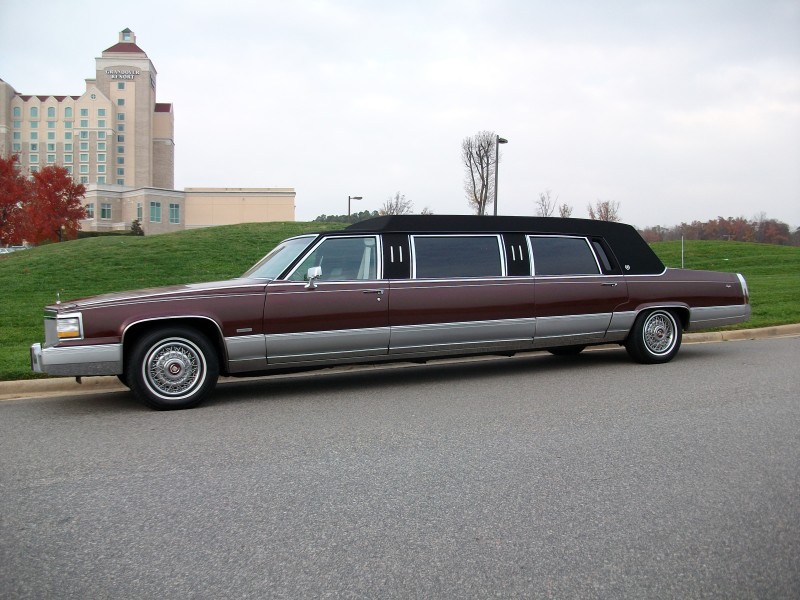 "wedding door" is a nick name in the limo business for rear doors lengthened at the limo manufacturing, usually 8-10 inches and usually just on the rear passenger side. but this car has it on Both rear doors. hence the double door panel grab handle sections on each rear door. This is another very rare option, especially in 1991.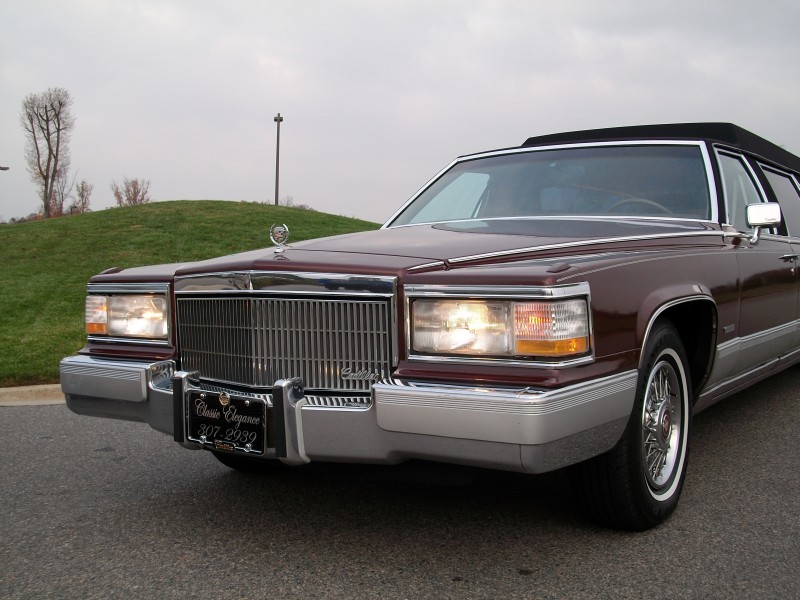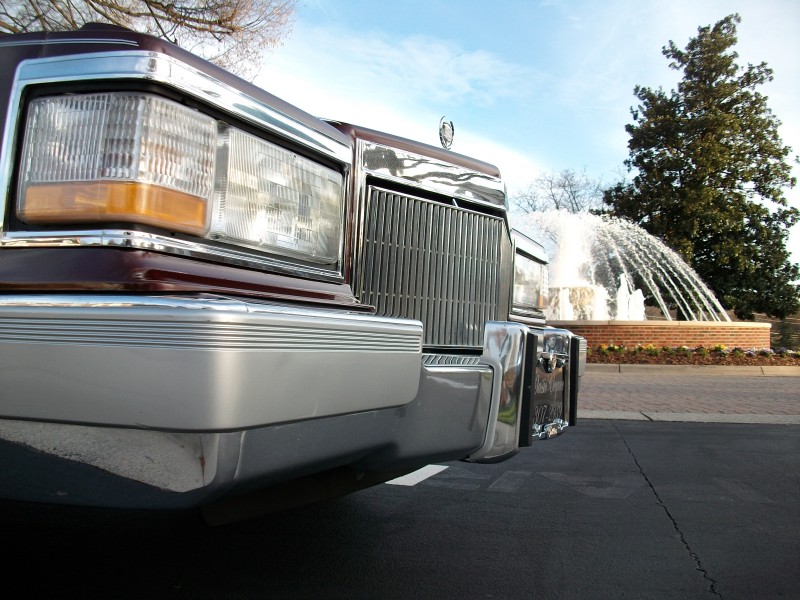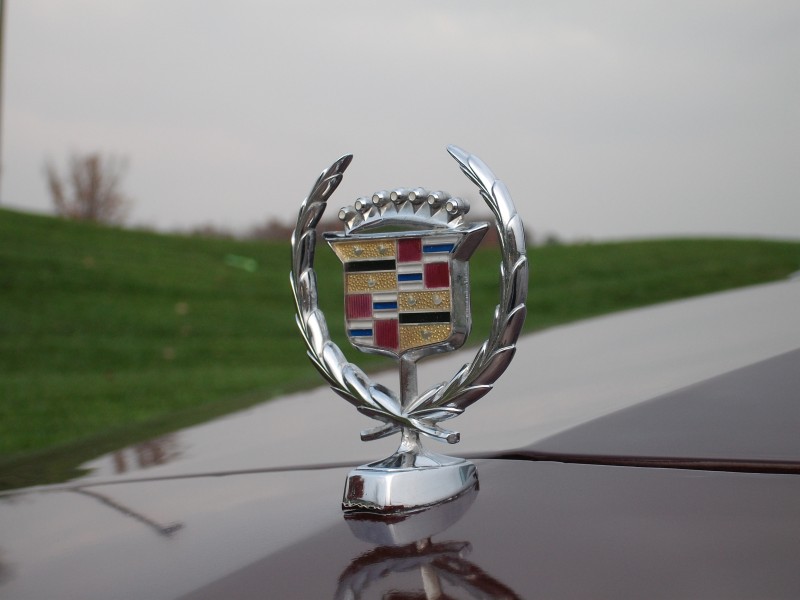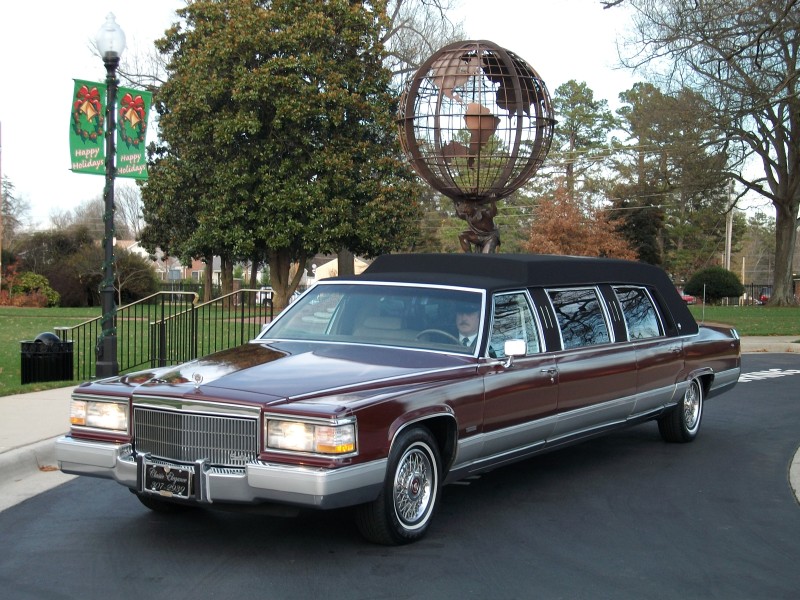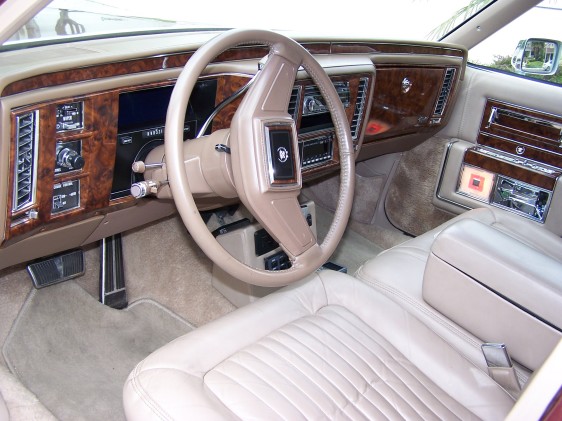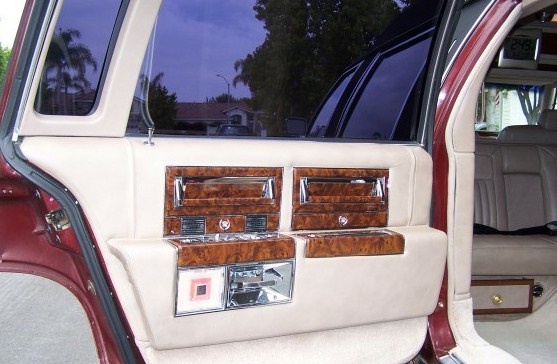 This is a good view of the extended "wedding door". Notice the length of this door and the double grab handles. VERY rare and even more rare that this limo has these doors on BOTH sides!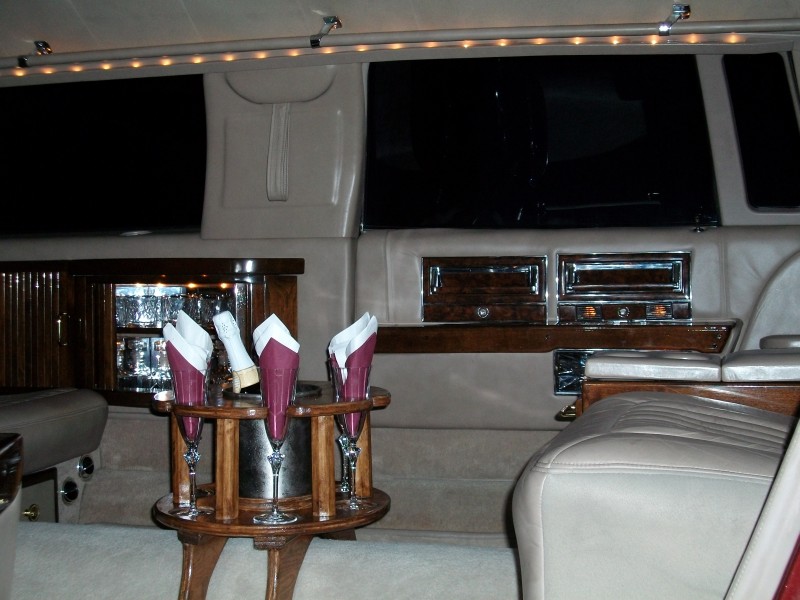 Halo lighting as well as under seat accent lighting, overhead full length leather wrapped grab handle on both sides in the rear.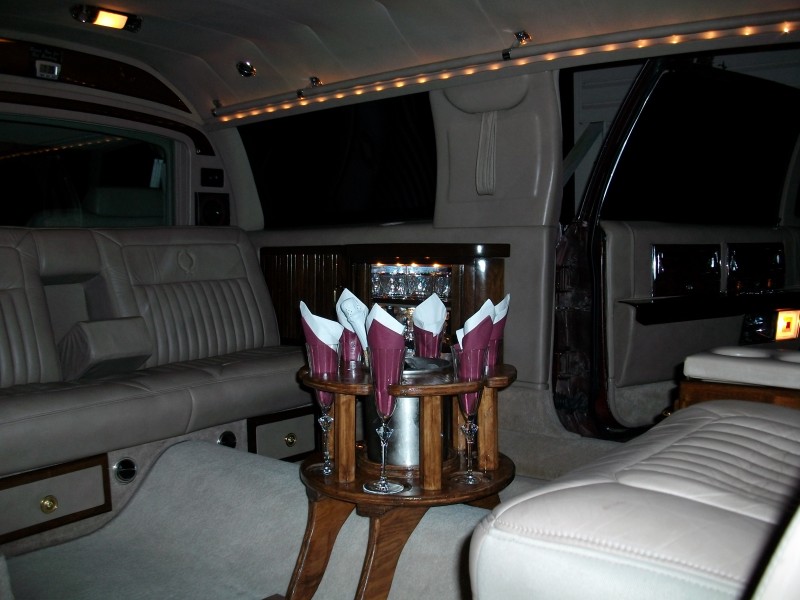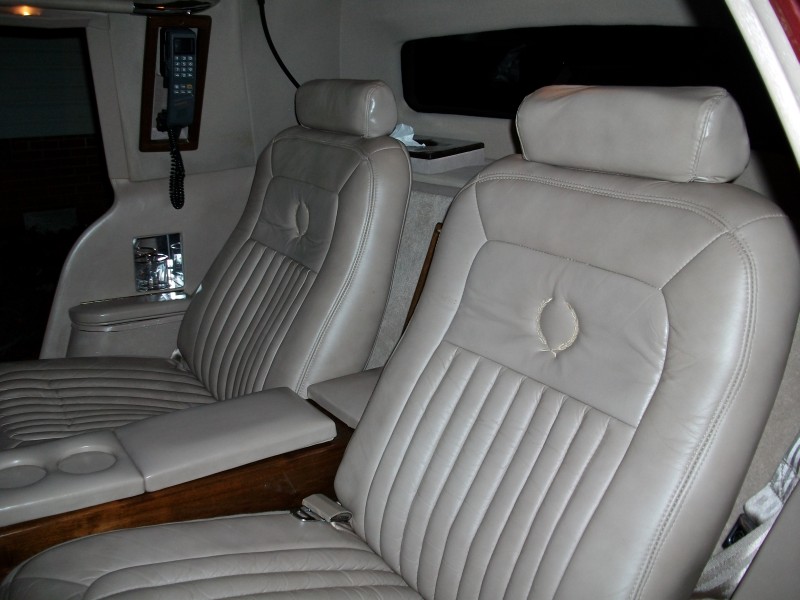 Glove soft leather seating, 6 way pwr reclining rear bucket seats(again, very rare) with solid walnut and leather wrapped console.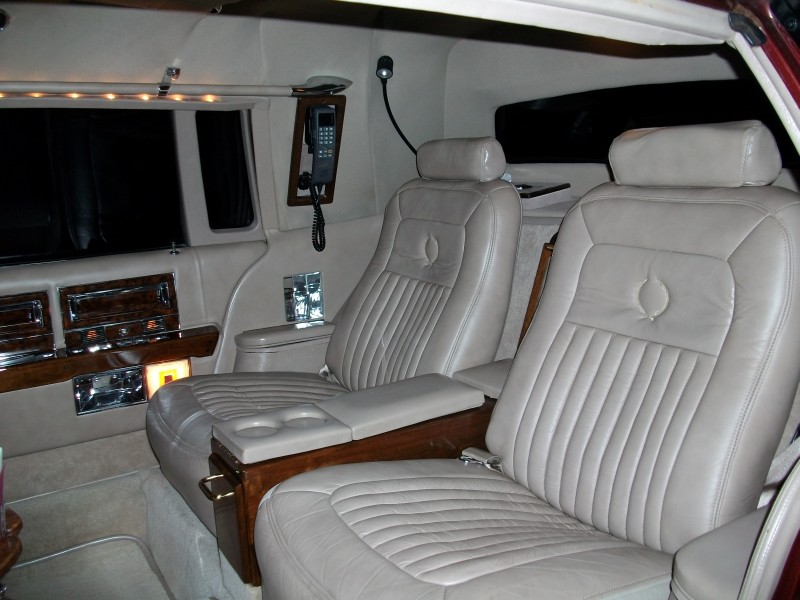 overhead and over shoulder reading lamps throughout.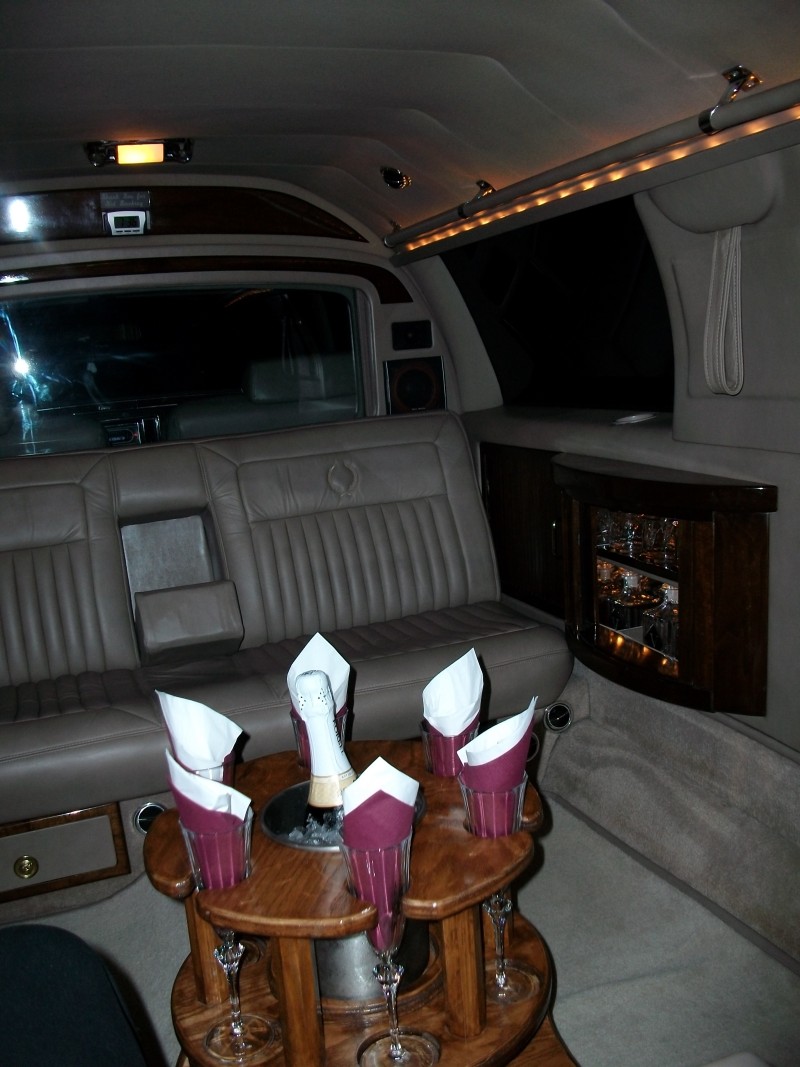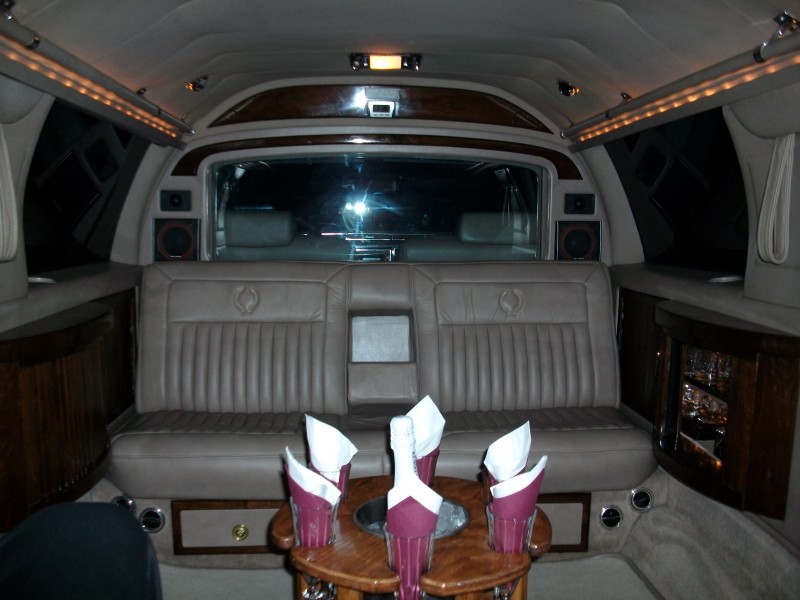 Look at that incredible headroom with the raised roof option.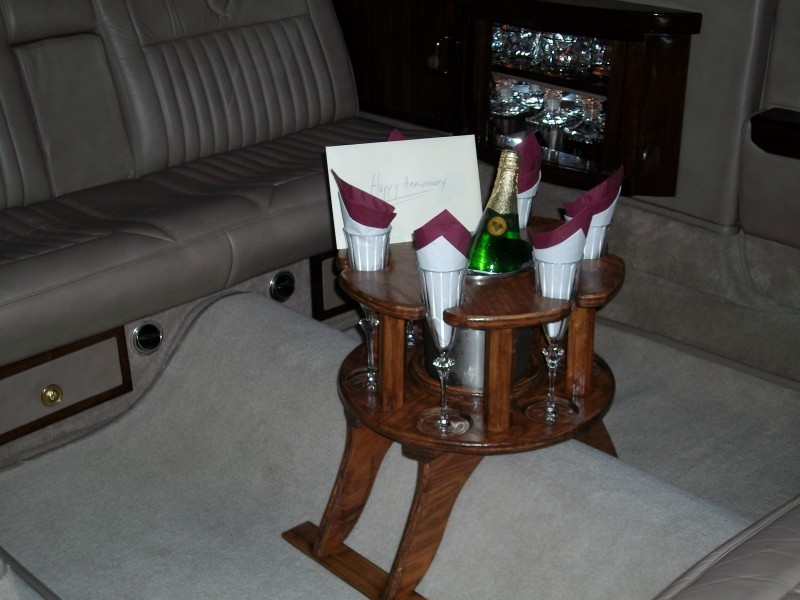 Beautiful carpeting and under seat storage.
This Limousine has both the glass and the solid privacy divider.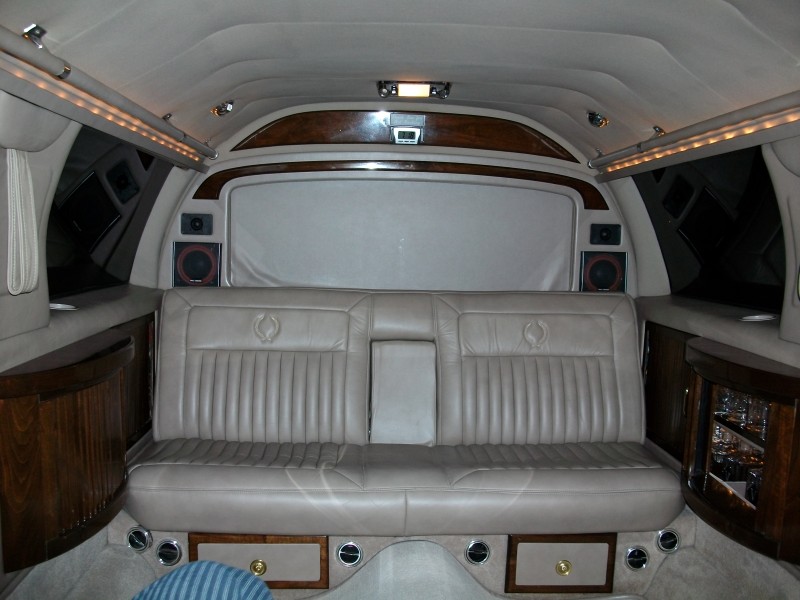 intercom phone to the chauffeur, pwr slide open and close wet bar doors, as well as tv cabinet. Carpet overlay in rear, the whole interior is all original and in Perfect shape.
Double lighted vanity mirrors in rear.
7 stainless steel, self draining ice bins.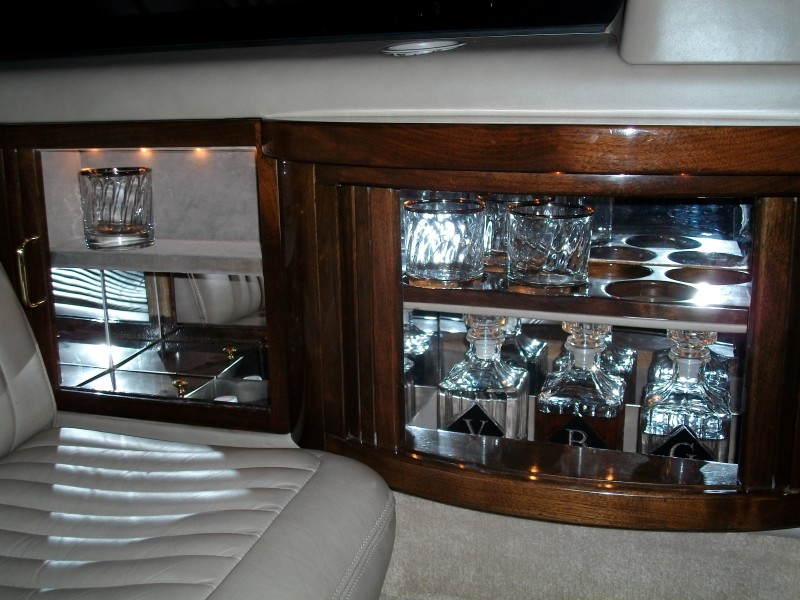 Solid Walnut console and cabinetry, AM-FM-CD player 4 speaker with sony amps in the rear.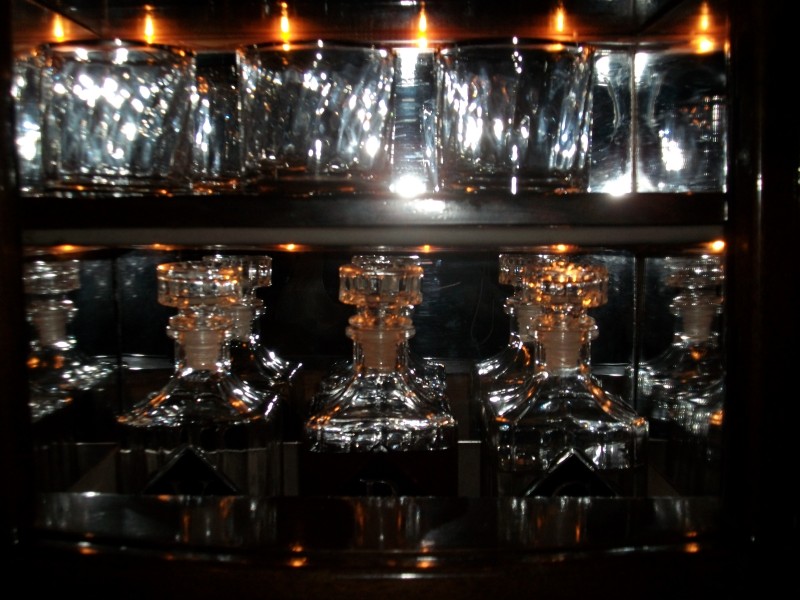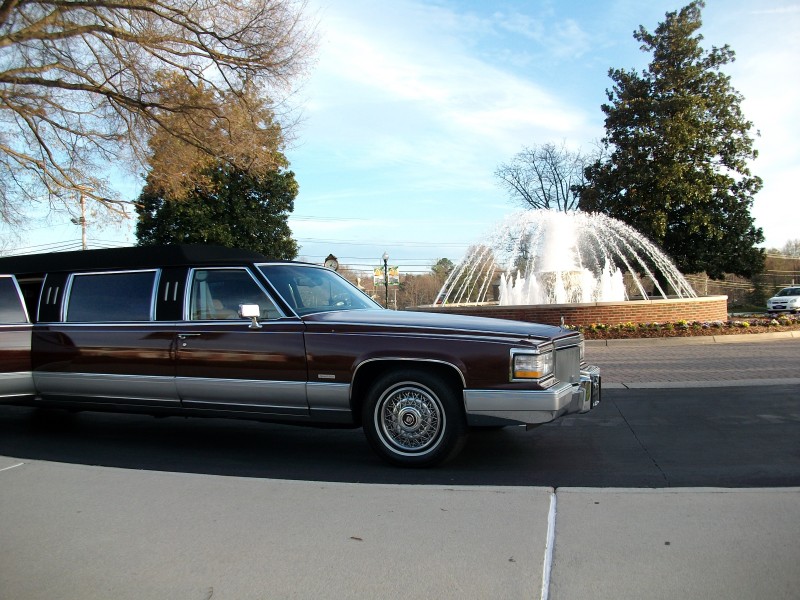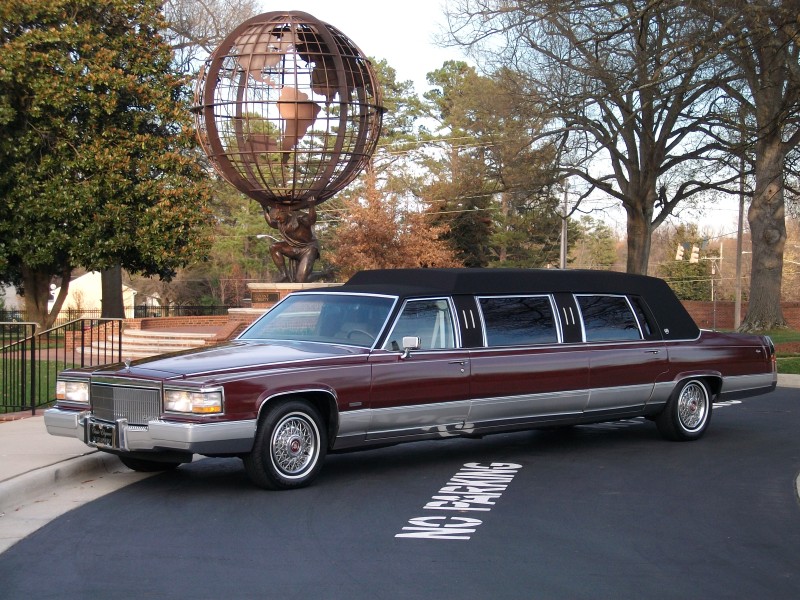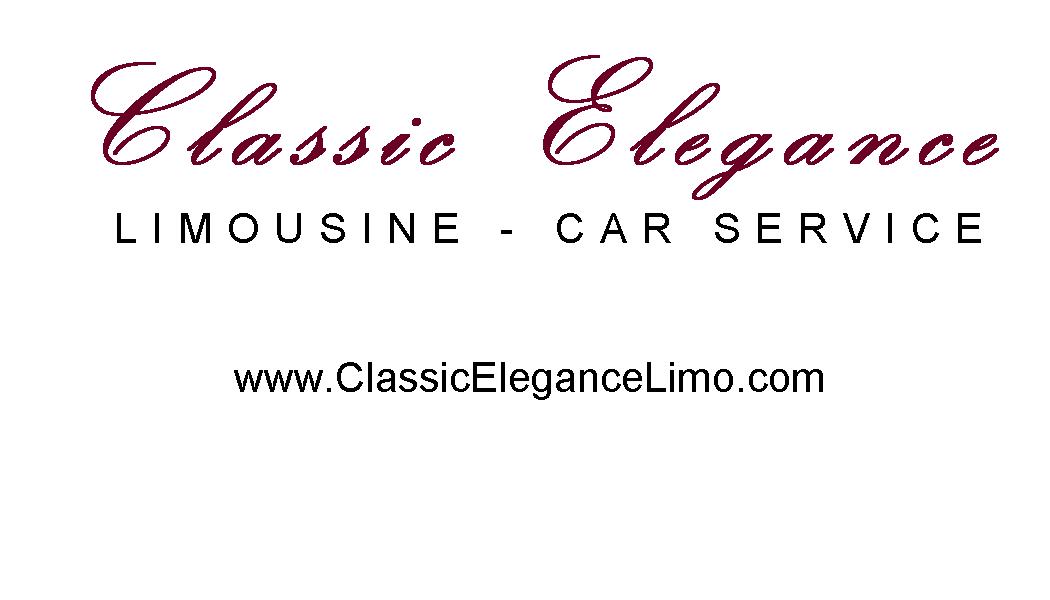 CLICK HERE to return to Vistor Parking
CLICK HERE to return to Fleetofcads home page.