Kevin Taylor writes from the cool desert.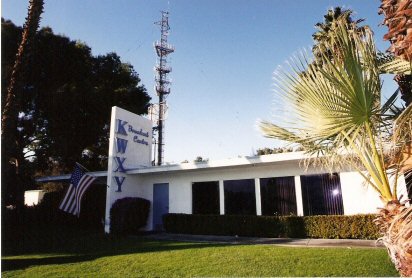 "Here in sunny Palm Springs, CA, there is a heritage station which went on the air in October 1964. The station, KWXY started out on 1340 AM and through the years ended up on 98.5 FM broadcasting the same format - Beautiful Music. Going into it's 45 year of operation, KWXY still plays Beautiful Music mostly on reel to reel tapes and has become a staple in the Coachella Valley broadcasting at 50,000 watts night and day. Up until 2006, KWXY remained on 1340 AM and simulcast on 98.5 FM when the AM station was sold. Last year, Glen Barnett, the sole owner sold the station to Ric and Rozene Supple who own a cluster of stations also located in Palm Springs, including KDES 104.7, another heritage station which celebrated it's 50th year last year. The 104.7 signal was sold to another company last year and once the FCC finalizes everything, KDES will move to the 98.5 FM spot on the dial and KWXY will move back to it's original home at 1340 AM.
While working at KWXY part time as a fill-in announcer, I had the opportunity to do a photo essay of the exterior and interior of this small station. In 1964, when the station was originally built, there was nothing around it except desert. Today, it is surrounded by homes and businesses and is located at the same location on Dinah Shore Drive.
Having worked at KPOP 1360 AM for seven years at Clear Channel Communications and then working at KWXY was a thrill for me as I was able to work in both state of the art studios at CCC and then work at a station which was somewhat stuck in a time warp. Many well known celebrities have graced the studios of KWXY, the celebrity playground of the desert. Many of since passed but the memories of their music still play on the air today and pictures that used to grace the walls in the second studio are now available online at the station's website, www.kwxy.com.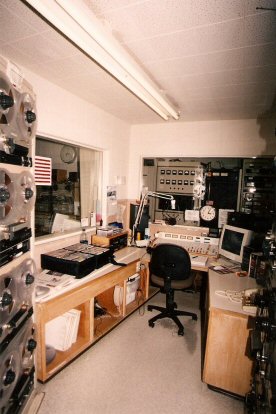 This is truly a niche station where the on-air staff still reads the news at :45 past each hour from the AP network. There is also a feature called "Pet Patrol" in which listeners who lose or find a pet can call into the station and report it and it will be announced over the air until the pet is reunited with it's owner. With so many Canadian snowbirds during the season, the station airs "Canada Today" twice each day with news from Canada for our Canadian friends.
As mentioned earlier, the music at the station is primarily broadcast on reel to reel tapes on four decks. The first deck is instrumentals, second is vocals, third is instrumentals and fourth is vocal - every other song is an instrumental followed by a vocal. While on the air out of a stop set, the jock simply presses the start button and the tapes just go. When it's time for another break, you hit the stop button and at the end of the song, the tape stops. Meanwhile each box that the tape came from has an accompanying play list that coincides with the tape which means at any time, you'll have four playlists in front of you which you need to keep track of and hope you know the music well enough to know what was played in that music set. Some of the younger air staff don't know the music so it's always entertaining hearing them pronounce an artist or back announcing a music set if they weren't paying attention or get lost on the sheets.
I was one of the few fortunate ones when I was hired at KWXY as I was also programming KPOP at the same time and the Program Director at that time allowed me to program my own shows. I would let the reels rest for the six hour shift and then bring in my cd's and play them and also take requests. There were only three of us at the station who were allowed to program our entire show. I was also the youngest on staff at the time and new the music and artists forwards and backwards. It was a real joy to connect with the desert audience and you never knew who would be on the phone or stop in while you were on the air as many artists of the era live in the desert.
Trini Lopez is a regular caller and very nice. Keely Smith and her late husband, Bobby Milano stopped in as did Kaye Ballard. Local artists also stopped in from time to time and dropped off their cd's and would sit and chat about upcoming performances that they would be involved with.
Although I haven't been on the air there recently, it's nice to know that KWXY is still going strong almost 45 years later and it's still like a good friend and live 24 hours a day. Yes, I said live! Local too. No satellites, pre-recorded shows, voicetracking, etc. - just local, live programming which is a rareity these days.
Thanks for letting me introduce you to KWXY 98.5 FM and share my photos. Next time you're in the desert, check it out as it's like nothing you've heard in a very long time and probably won't hear again any time soon.
(Kevin starts a new job in the San Bernardino and Riverside area today! Congratulations Kevin!)