"Across the blue of the sky, jet trails reminding of all the journeys you have known, and the sounds of the desert on KWXY"
This is one of the very last "Beautiful Music" radio stations left in the US. Many years ago, long before I ever moved to the desert, I remember heading for Palm Springs in my 1976 Coupe Deville, passing San Bernardino and stumbling across this station. I found it funny the first time I heard this old "easy listening" station, but ended up leaving it on the radio for the duration of my vacation here. Over the years, I have been to countless pool and cocktail parties here in the desert, and this station is almost ALWAYS playing in the background. It totally fits the vibe of the area, and has been a Palm Springs tradition since 1964. I was thrilled when I moved to Rancho Mirage and found that KWXY still exists.
The station recently sold and was moved from its 98.5 FM position back to its original frequency 1340 AM. Luckily they kept the format and added an internet stream. Listen, and it will grow on you! ..Bob..fleetofcads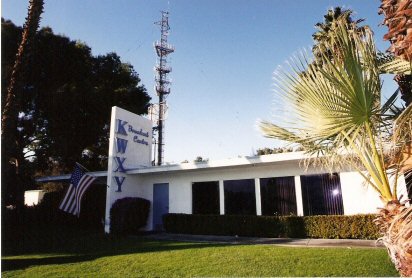 .
.
.
Fans of KWXY Sounds of the Desert is on Facebook
Listen here for KWXY FM and Dave Hull's final sign off Feb 2, 2010
.Comments from other listeners..
.
.
ccachet wrote:
I've never been a regular KWXY listener but tonight I do feel a deep sense of sadness at the passing of a station that still has live disc jockeys and local newscasts after 6 p.m. It's the final chapter in the history of radio broadcasting. From here on out I guess it's "custom-casting" as we subscribe to faceless news features and jukebox music via RSS on the Internet. Children born in 2010 will someday ask, "Mommy, what was radio?"
2/1/2010 9:13:43 PM
.
.
RanchoVisitor wrote:
I'll also miss those jingles every hour on the 30 when the lady says something like, "across the blue of the sky, jet trails remind us of journeys long ago, and the sounds of the desert, kwxy".
2/1/2010 12:17:47 PM
.
.
RanchoVisitor wrote:
My grandparents live in Rancho Mirage and I visit every March. KWXY is a great station. I have memories of my grandparents dancing whenever one of their favorite songs is played - it's priceless.
I am 33, and live in NJ, and work in the city. I couldn't believe when a coworker was listening to KWXYon the internet, small world. Now about 30 people in my office listen to KWXY via radiotime, we sing along to some of the songs, sorta like karaoke. My boss who is in his 60 can't stand the station, but recognizes how good it makes us feel to listen/sing although he often slams his door shut some of us sing off tune. We normally always sing collectively to Neil Diamond's Sweet Caroline or Moon River, as they are often played.
I listen day and night, and enjoy Dave Hull at night, I'll miss Dave, Mark & Don. I won't miss Mandy at the gold buy on weekends, or that silly decorating program on Saturdays.
I hope the station will succeed on AM, or else my workdays will be long and dry.
2/1/2010 12:06:53 PM
.
.
desertwanabe wrote:
Last night was Dave Hull, The Hullabalooer's, last night on the radio after more than 55 years. Hundreds of his fans, friends, and family were able to listen to the broadcast worldwide via Radioland. Thanks to Facebook, friends were able to share their memories while listening and simultanously dance by the radio (or computer). It was a great night, and this radio legend will be missed.
2/2/2010 10:01:14 AM
.
.
cactuscool wrote:
Don Wardell is an absolute treasure and must be retained at all costs, though I really enjoyed his show when it was in daytime, that way, I was able to "educate" the neighbors with his stories and fine music, blasting from my outdoor speakers. The worst part, (though I understand it was paid advertising) is Many Armstrong yapping endlessly from the Out of the Box Gold Store. Her grating voice nagging about trinkets and such is an incongrous acoutrement to the beautiful music. Hush darling; Don's on....CHEERS!
1/31/2010 8:17:18 AM
.
.
ronoliver wrote:
on the bright side, kwxy.com will have a clearer signal than even FM did....and we can listen anywhere.
hmmm...i wonder if i can make a bid on those call letters from the old KWXY station sign....?
1/31/2010 7:59:19 AM